Case Study: Embracing a Changing Industry Through Effective Leadership Training
By Tim Reeves - November 11, 2017
Anyone who has paid even the slightest attention to recent news knows that the US life sciences and healthcare ecosystem is undergoing massive change driven by the ripple effects of the Affordable Health Care Act. In the simplest of terms, the industry is undergoing a restructuring from a supplier dominated system to a patient-centric system. Former powerhouses like pharmaceutical companies are repositioning themselves in recognition that R&D driven blockbuster drugs are no longer the engine of growth. Medical device providers and hospitals are experimenting with consolidation and risk sharing as they responded to regulatory incentives and penalties designed to bring about a patient-centric future where cost is low and quality is high. As the players converge and re-invent themselves, collaboration is a key shift in mindset for these companies, and effective leadership training is crucial as companies evolve alongside the changing landscape.
The Regis Company partners with key players in this space to help react to the uncertainty ahead. Here's a brief summary of a professional development training program that we implemented alongside a client partner with the goal of re-establishing their position as a leader in quality.
Our client, a global supplier of products to hospitals, clinics and home care, had strayed from its core mission of saving and sustaining lives due to increased efforts to maximize shareholder value. In an effort to cut costs and boost profits, several trade-offs had been made that compromised quality.
Regulators had noted that the company, who had at one time been the model of safety and efficacy, was no longer best-in-class in this important area. The result was increased costs for correction and compliance, damage to the brand name and a resulting loss in market share. It was time to return to the business's focus on quality via a culture shift that would be driven by effective leadership training.
Internally, a small group of thought leaders in the quality function began to design a solution focused on changing the culture. Their design was thoughtful and modeled neuroscience principles of how great thinkers and leaders learn.
They collected stories of bad outcomes that brought sharp focus to the impact to patients, thus triggering an emotional component to the need for change. They demonstrated through root cause analysis that silo-thinking and expedient decision-making were at the heart of the problem. The professional development training program was powerful, but limited in its reach and scalability to impact change, and this is where The Regis Company was able to make a key difference.
Our design study methodology identified the personas of the large-scale audience and the behavior matrices of beginners through experts. Our interviews with subject matter experts detailed the systems at work, the tradeoffs at play and the required mental model shifts. Those shifts were: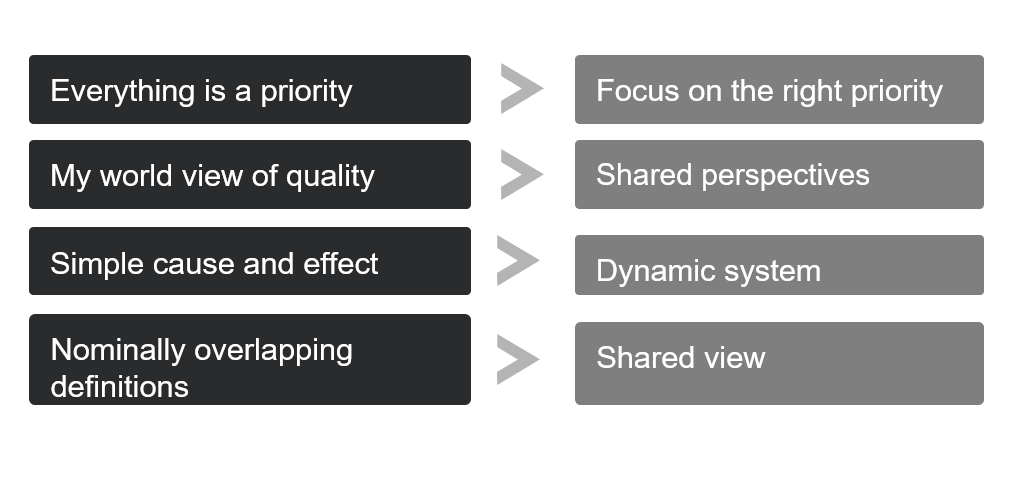 Our objective was to instill in participants behaviors that demonstrated the power of balancing the needs of internal and external stakeholders through constructively challenging each other, simplifying the complex, making rapid and disciplined decisions and driving for results. Those behaviors would lead to competitive advantage in the market and could be simulated by creating a Product Health Score comprised of key value chain metrics.
In order to scale quickly across the organization, it was necessary to train an internal team of facilitators for simultaneous, rapid deployment. In order to engage deeper thinking, which is part of self-discovery learning, it was important to offer a business simulation experience.
The answer was table-top, board simulation training that leveraged the internal teamwork on case studies and stories, bringing them to life by having participants play the role of a global product owner of representative healthcare products.
Over four rounds of business simulations, participants experienced the dysfunction of silo thinking in the first round and then the power of looking at the business as a system in subsequent rounds. Real-world stories are brought to life in action cards which require team discussion of the trade offs and a decision which impacts the metrics.
Critical to each round of simulation training is the end-of-round debrief, during which the facilitator challenges the teams to share and defend their thinking while uncovering the major learning point themes designed into each round.
After implementing the programs, learners and business stakeholders throughout the client organization provided feedback that indicated the program was one of the most effective leadership training programs in recent memory. Leaders and their teams are now aware of how their decisions affect the organization systematically and are empowered with improved foundational decision-making skills that will drive the company back to its position as a market leader in quality.