Two Factors That Will Define the Next Generation of Learning Technology
By The Regis Company - March 30, 2021
Though digital transformation is nothing new, only 22% of companies were ready for mass remote working prior to the outbreak of COVID-19, according to the World Economic Forum pulse survey.
Learning and development was no exception. Live learning came to a screeching halt – and even programs that could be conducted online soon gave rise to the dreaded Zoom Fatigue.
A new kind of learning technology is needed to tackle today's leadership development challenges. It comes down to two deceptively simple factors: richness and reach. Let's take a look at the chart below to better understand these factors.
In short, the next generation of learning technology must capture the engagement and immersion of live learning, as well as the reach and accessibility of eLearning platforms.
Richness
Richness is defined as the impact of the learning. Along the Richness axis, you will see the levels of Bloom's Taxonomy (knowledge, comprehension, application, analysis, synthesis, evaluation, and creation). The higher on the Richness axis a solution falls, the greater the depth of learning.
Reach
The Reach axis describes the number of people who participate in the training. The further to the right a solution falls, the greater the number of participants.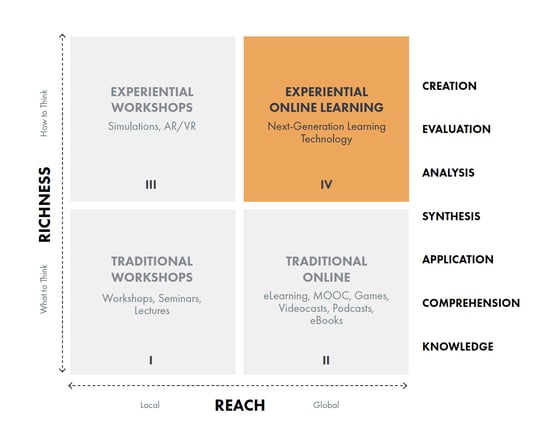 The next generation of learning technology
The model above maps leadership development offerings, with quadrants I, II, and III representing the most common solutions in the market today. Quadrant IV encompasses an emerging class of powerful solutions. These solutions can be deployed via immersive virtual platforms that leaders can access anytime, anywhere – with true-to-life content designed to engage leaders at every level. Simply put, the crux of leadership development now lies in the richness and reach of the next generation of learning technology.
A free guide for learning leaders like you
If you found this post helpful, there's more to help you get back to business as usual. Get actionable recommendations for addressing key trends shaping leadership development today by downloading Building the World's Best Post-Pandemic Leaders.
Just some of what you'll learn:
Industry-wide effects of COVID-19
How learning leaders like you are coping with change and uncertainty
Top skills and priorities for leadership in the Next Normal
4 key trends you'll need to address in 2021
How you can address these challenges without going over budget