Responsive Modeling Drives the Best Organization Development Consulting
By Mike Vaughan - January 15, 2018
If you take a deep look at organizational structures and the practice of organization development consulting, you will see that their design supports discrete thinking. That is, employees focus on isolated divisions, programs, or issues, rather than the big picture. There may be some overlap of objectives between divisions that roll up into an organizational scorecard, but the fact is that people will do what people do best—jump in, solve the problem at hand, and drive up their results. Hence, the silo effect that many organizations experience.
A few years ago, my colleagues and I worked with an organization responsible for medical practices across the United States. By using responsive models, they were able to gain a tremendous amount of insights that led to significant changes in its processes, policies, and leadership. Since medical practice managers have to make a complex set of decisions with competing interests related to quality of care, capacity, staffing, collections, and cost management, the management team in this case needed to get their heads around making tactical decisions while keeping an operational and strategic focus.
The responsive model that the team used is shown below. It provided results of the competing decisions and rich feedback reflecting difficult trade-offs. During our corporate leadership training, the management team received feedback on how morale might change over time relative to their decisions. We provided them with detailed information about staffing, possible effects of turnover, and operational efficiencies, such as improving processes or implementing new technologies. In addition, the organization development consulting model generated insights into possible limits to growth and potential impacts to key performance indicators.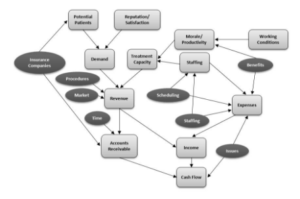 During the development of the model, it became apparent that each of the executives had a different perspective on how a medical practice must operate. Working closely with the executive team, we guided them through an interview process that helped them craft their own plan in relation to the organization's stated strategy. It was enlightening to see how each person interpreted the organization's stated strategy differently.
Responsive Modeling helped evolve the team's thinking and perspective by showing the interdependencies of the various divisions of the organization. Each executive at the medical practice was able to test out personal assumptions, try different scenarios, and evaluate the potential outcomes across the various divisions. During the process, they agreed on some fundamental policy changes.
The most impressive output of this executive leadership training, from my perspective, was how they individually and collectively reevaluated their approach to leadership. As one of the executives stated, "It appears that if we incrementally improve work conditions and update a few dated processes, we will see an uptick in performance. However, our greatest leverage point to creating sustainable change is to rebuild our community mindset that by serving one another, we can better serve our patients." Responsive Modeling has become an invaluable tool for organization development consulting in scenario planning, supporting decisions, and understanding complex problems.
Michael Vaughan is the CEO of The Regis Company, a global provider of custom business simulations and experiential learning programs. Michael is the author of the books The Thinking Effect: Rethinking Thinking to Create Great Leaders and the New Value Worker and The End of Training: How Business Simulations Are Reshaping Business.